Apr 1


Shannon Health Update: April 1, 2021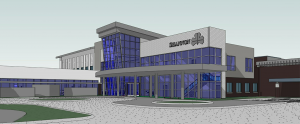 Downtown Campus Expansion and New Comprehensive Cancer Center
The Trustees of Shannon Medical Center announced a $36 million expansion project on the Shannon Downtown campus to update facilities and provide additional space to serve the growing number of patients in the Concho Valley. The project will include a new Outpatient Pharmacy, Cancer Center, an office building for support services and a parking garage structure. The new Shannon Cancer Center will bring all outpatient oncology care and treatment services into one location as a comprehensive center of excellence to provide patients the best care with seamless service focused on helping them and their families through this journey. The new facilities will be located within the city block between Beauregard and Twohig streets between Oakes and Magdalen. Construction will begin in August, with completion expected in September 2022.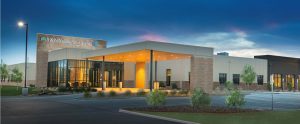 Rehabilitation Hospital
On March 29, Shannon Rehabilitation Hospital, an affiliate of Encompass Health, opened with a celebration we prepared months for – the arrival of the first patient. Before opening, patients with debilitating illnesses or injuries would sometimes have to travel hundreds of miles for care. Now, patients can receive the best treatment and therapy to continue their next phase of recovery closer to home. The new hospital not only provides essential services for the Concho Valley but helps restore hope for patients as they return to their community and the people and activities they love most.
Our COVID-19 Journey
The past year has been filled with incredible challenges, but it has also allowed us to grow and overcome many obstacles as we managed the spread of the novel coronavirus. We are stronger today and continue working to keep our community safe and healthy. Shannon providers and associates are providing excellent care both inside and outside the hospital with mass COVID-19 testing and vaccine distribution to our community.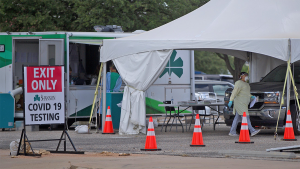 Drive-Thru Testing Sites
Our team set up two drive-thru testing sites in just four days. For both locations, our electronic medical records team and IT department rapidly implemented connectivity and made sure all equipment was functional to ensure we were ready for community members. Our engineering staff installed electrical hookups for the mobile trailer and set up the tents. Clinicians were mobilized to staff the sites. To date, we have administered over 45,000 tests through our drive-thru sites.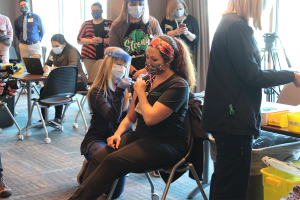 Becoming a Hub for the COVID-19 Vaccine
In December 2020, Shannon received the first shipment of Pfizer's COVID-19 vaccine. Our team quickly worked to create an efficient process to serve as many patients as possible and use every dose of the vaccine. Shannon was one of the first hospitals in West Texas to give the vaccine. Since then, Shannon created an off-site Vaccine Clinic at Sunset Mall to serve the broader community. More than 40,000 doses of the vaccine have been successfully administered.