May 1


Shannon Health Update: May 1, 2021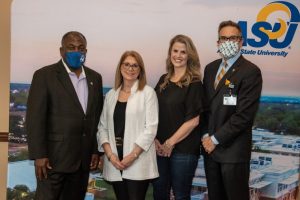 Partnership with Laura W. Bush Institute for Women's Health
Shannon is excited to collaborate with the Laura W. Bush Institute for Women's Health (LWBIWH) and Angelo State University to continue supporting vital programs in the Concho Valley. LWBIWH empowers women and is dedicated to improving the lives of women and girls in Texas and across the nation by advancing multidisciplinary science in women's health. The Institute's work over the last 10 years has changed the lives of thousands of women of all ages through their educational and outreach programs.
As part of Shannon's mission to provide exceptional healthcare, this partnership extends that mission through the programs provided by the Institute such as education, outreach, disease prevention and early detection. These programs are essential to supporting the health of women in the Concho Valley.
Shannon's support will allow ASU's regional office of the LWBIWH to continue to improve care for multicultural, multigenerational, urban and rural female populations by:
Establishing community education and outreach programs
Developing curriculum for professional healthcare education
Strengthening scientific research and translating that research into medical practice
This program involves the collaboration of providers across Shannon and offers research opportunities in gender-focused medicine and new data for our providers to implement best practices as they care for patients. Shannon Medical Center is appreciative of the ongoing support from the community as they look forward to working together with LWBIWH leadership and Shannon medical staff to advance research, knowledge and care for women.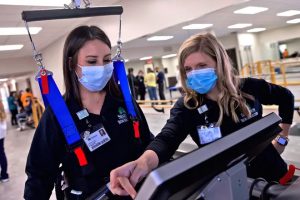 Neuro Rehabilitation Facility
The Shannon Neuro Rehabilitation is relocating to the Shannon South Campus to add additional equipment, new services and allow for additional patients to be seen. The rehabilitation center is a multidisciplinary team of occupational therapists, physical therapists, and speech-language pathologists who provide outpatient neuro therapy services within San Angelo. One of the new services that will be offered is a community class for graduated patients who would like to continue in perform their exercises in a supervised environment.
Shannon Clinic Knickerbocker
Upon the closure of West Texas Medical Associates (WTMA), WTMA providers will join the Shannon Clinic Knickerbocker for patients to continue to receive care from the providers they know and trust. WTMA providers and Shannon Medical Center have had a long-standing relationship for many years and Shannon welcomes them to our team with renovated offices and patient rooms.

5,000 Procedures with da Vinci Robot
In April, Shannon celebrated a milestone of completing 5,000 procedures with the da Vinci Xi Surgical System. This surgical system allows surgeons to have 3D vision along with better digitalization, magnified vision and wrist-articulated instruments. All these features combined help to minimize the risk to the patient and advance surgeries to be minimally invasive. The system is used in Shannon's Downtown and South hospital campuses. Currently, Shannon's surgeons are utilizing the da Vinci for many different types of procedures including gallbladder removal, hernia repair, colectomy, urological, GERD treatment and gynecological surgeries.